Thousands of teaching jobs in Scotland were re-advertised as schools struggled to fill vacant posts, new figures indicate.
Statistics obtained by the Scottish Conservatives through a freedom of information request suggest a number of positions at primary and secondary school level across the country were not filled.
It means in the last three years nearly 3,000 vacancies have been advertised again.
Over that time, 340 of those posts were in Aberdeen, with a further 369 in neighbouring Aberdeenshire.
There were 197 jobs re-advertised in Edinburgh and 120 in Glasgow.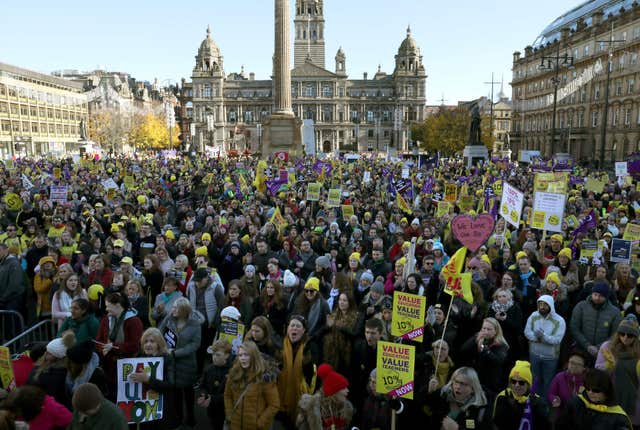 Last week, teachers overwhelmingly rejected a "final" pay offer – a headline 3% rise, with bigger increases for staff on lower grades.
Education Secretary John Swinney said he was disappointed by the rejection of a "strong and fair" offer.
The Scottish Secondary Teachers Association has warned it is "very likely" teachers will take strike action.
A spokeswoman for EIS said: "Difficulty filling vacant posts is just one example of the effects of the recruitment and retention crisis currently facing Scottish education.
"A growing number of experienced teachers are choosing to leave the profession early and not enough new teachers are coming into the system.
"In order to make teaching an attractive career option, issues of severe workload and declining pay must be addressed."
A Scottish Government spokesman said: "We continue to provide funding of £88 million each year to support councils to maintain teacher numbers.
"This resulted in 543 more teachers in 2017 than the previous year – the second consecutive year teacher numbers increased.
"In addition, 2,864 newly qualified probationer teachers started on the Teacher Induction Scheme in August 2017 – 231 more than last year.
"We have taken decisive action to recruit and retain teachers through our Teaching Makes People campaign and have created new routes into the profession.
"We have also made bursaries of £20,000 available for career changers to train in priority subjects."
Scottish Conservative shadow education secretary Liz Smith said: "This is another alarming statistic, which highlights the severe consequences of the SNP's chaotic approach to workforce planning.
"Councils are clearly finding it very difficult in some circumstances to recruit teachers to key posts which is why the level of re-advertisement is rising and why there is a growing burden on existing teachers.
"Naturally, this has a big impact on morale within the profession and, of course, on our young people in classrooms across Scotland.
"In recent weeks, we have seen the public expression of anger within the profession about the SNP's handling of education generally.
"That anger will continue to grow if the problems of teacher recruitment persist."